SIMAP® (Sustainability Indicator Management & Analysis Platform) is a carbon and nitrogen-accounting platform that offers campuses a simple, comprehensive, and affordable online tool to track, analyze, and improve campus-wide sustainability. The mission of SIMAP®  is to help institutions, colleges and universities track their footprints so they can meet their sustainability goals as effectively and efficiently as possible. 
Our proven algorithms are based on the standards in the Greenhouse Gas Protocol and nearly two decades of work supporting campus inventories with the Campus Carbon Calculator, CarbonMAP and Nitrogen Footprint Tool. SIMAP® helps users:

Create a baseline

Benchmark performance

Create reports

Set goals

Analyze progress year over year

Choose from two subscription tier options
Access resources
Our history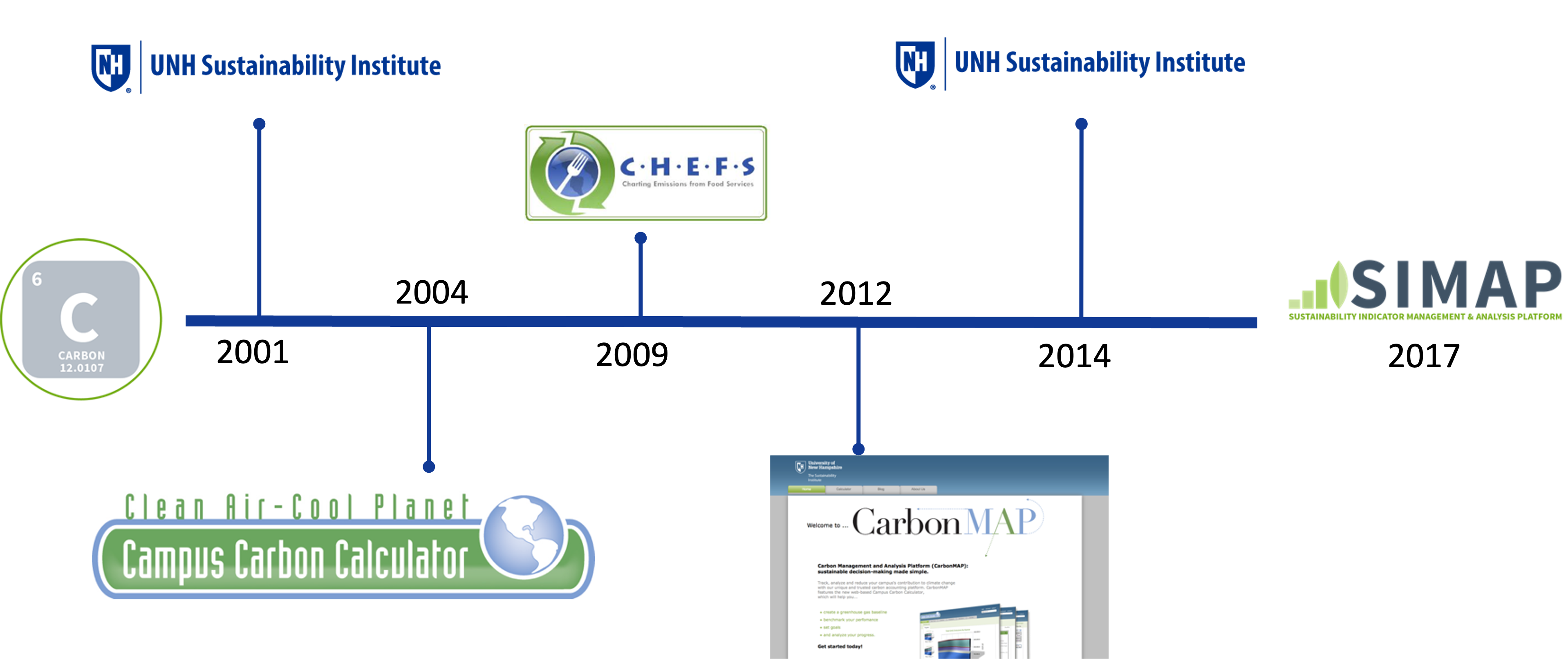 SIMAP is the current iteration of two decades of carbon footprinting for higher ed and organizations. Our history starts with a Master's thesis at the University of New Hampshire in 2001. After UNH completed its own carbon footprint, other universities and organizations were interested in doing their own calculation. The campus footprint tool then went to the nonprofit Clean Air Cool Planet, where it was expanded and used by colleges and universities across the US. The Excel-based carbon footprint tool then came back to the University of New Hampshire Sustainability Institute in 2013, where it was renamed the Campus Carbon Calculator. Recognizing both the need for a web-based tool and an expanded view of environmental impacts, researchers at the Sustainability Institute began working on a new integrated web-based version of the tool that brought together the carbon and nitrogen footprints called SIMAP.
Launched in 2017, SIMAP has since expanded to reach more colleges, universities, and other organizations. We also continue to add new functionality to make greenhouse gas accounting easier and new categories to track more aspects of your carbon footprint. More recently, we have launched new programs focused on carbon footprinting education and outreach, including the Carbon Footprinting Certificate and the UNH Carbon Clinic. Contact us at simap@unh.edu with any questions.